Flying Spinner Toy Hand Operated Mini Drones Led Lights Flying Toys
---
The Flying Spinner
The flying spinner is a mind-blowing flying spinner that can perform incredible acrobatic tricks and stunts. The new world of modern tech has arrived!
Highly advanced Artificial Intelligence (AI) chip.
It's simple to master in just a few minutes and a total blast to play alone or with friends. It can fly just about anywhere and is the ultimate cure for boredom! Designed using a highly advanced Artificial Intelligence (AI) chip, the possibilities are almost endless. 
Throw it like a boomerang, let it hover above you, and send it across the room to a friend, this toy will keep your kids entertained for hours!

Act fast. NewWave Exclusive Products sell out fast! Nova Flying Spinners are a best seller.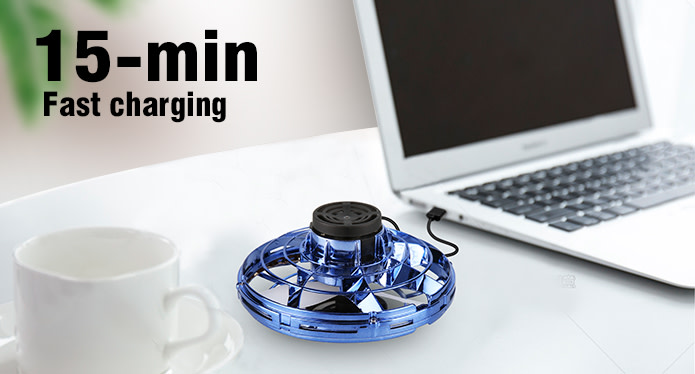 FEATURES
The mini flying spinner is loaded with incredible features, driven by Artificial Intelligence (AI) technology.
Simple, Fun, Safe Design: The enclosed aerodynamic wheel mechanism protects your hands while spinning and performing maneuvers. The UFO-style drone spinner is designed to be fun and safe.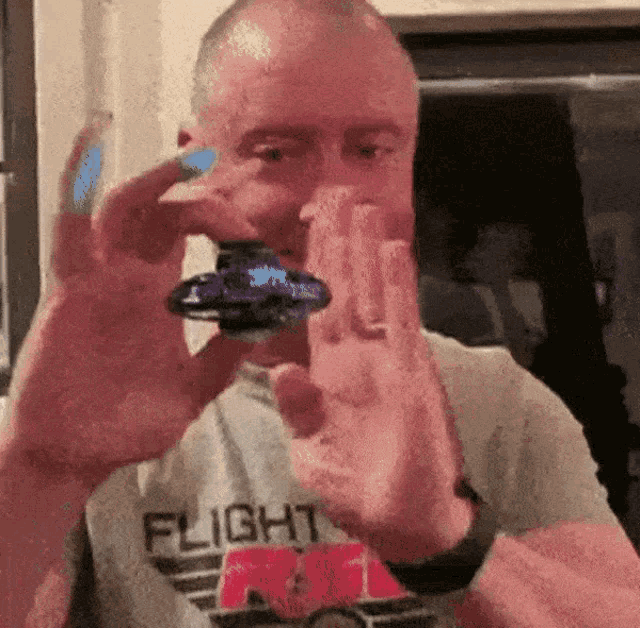 Scintillating RGB lights and Rechargeable: It takes just 15 minutes to charge the drone via USB cable. This little flying mini spinner is beautiful at night or day with its LED RGB lights.

Easy to Run and Play: Turn on the power button, hold the center axis and shake to run the mini drone. If you wish to stop playing, just simply grab it. Different throwing speeds and angles allow for different flight paths, tricks, and high-speed maneuvers. 

Fun & Interactive: With endless acrobatic tricks, you can team up and play with others, create games, and enjoy friendly competition. It's the perfect way to relax, and relieve stress at home, school, or just about anywhere.

The Perfect Gift: This little flying spinner is perfect for your child, friends, or colleagues. Grabs yours today and share the joy!
It is made of fine-quality material, long-lasting to use.
Easy to get started, all you need to do is to spin it up and give it a toss.
Different throwing speeds and angles allow different flight paths, tricks, and high-speed maneuvers.
Turn on the power button, hold the center axis and spin the wheel to start FlyNova.
Easy and safe to operate, if you want to stop playing, grab FlyNova and stop the spinning.
You can throw it and catch it yourself.
It will travel steadily in a straight line if you throw it downwards.
It will add more fun to your friends.
RGB lights, make it different.
It is fun and easy to control anywhere.
It's also a perfect stress relief toy when you're stressed out.
It is designed to play indoors as well as outdoors.
Specifications:
Item type: Flight Gyro
Material: PP
Color: Black, blue, red, 3PCS/SET(optional)
Battery capacity: 100mAh
Charging time: Approx. 15min
Package weight: 70g/2.46ounces
Package list:
1 * Flynova
1 * USB cable
1 * Manual
🌍We Ship Worldwide-No Matter Where You Are
🌍Estimated Delivery Time = Manufacturing Time(2-5 working days)+ Shipping Time
🌍Standard Shipping:6-10 working days
🌍Free Shipping:7-12 working days
🌍DHL Express:4-7 working days
1.Personalization Jewelry
Melody Necklace provides unique and customizable jewelleries, designed with the latest fashion trends.
2.100% Handmade Profession
 Melody Necklace adopt 100% 925 sterling silver,stainless steel,copper, zircon ,colored gems as main raw 
materials.Our every item is hand-made and inspected multiple times during the manufacturing process.
3.Affordable Price
Customization doesn't have to be expensive.We have our own factory.We are a bulk buyer of 
raw materials so get a lower price than a local store.
4.Fast Free Global Shipping
With free shipping over 39 USD,we deliver goods all over the world.